COVID-19 Principal update Friday 27 August
Ata Mārie
End of the week! My sincere thanks again to all of you for the way you have responding to the challenges over the past week and a half and the kindness that you have shown. Please find below further information about a range of matters. I do hope you have a safe and enjoyable weekend in your bubbles. I will be in touch again on Tuesday morning following the PM announcement about Alert Levels on Monday.
Spot the Difference challenge
Edgie Artists presents "Spot the Difference" lockdown challenge. The idea is to choose an artwork and "photoshop" yourself into it. Instructions are on our Instagram page (Handle: Edgie.Artists). All staff, students and whānau encouraged to have some fun. Send Ms Cunningham your final submissions to be posted on our page. Look forward to seeing your creativity. The app to make your submissions are free (Pixelcut on Apple, Magicut on Android) - a good little digital technology lockdown PD for you- it is very straightforward and easy. 😊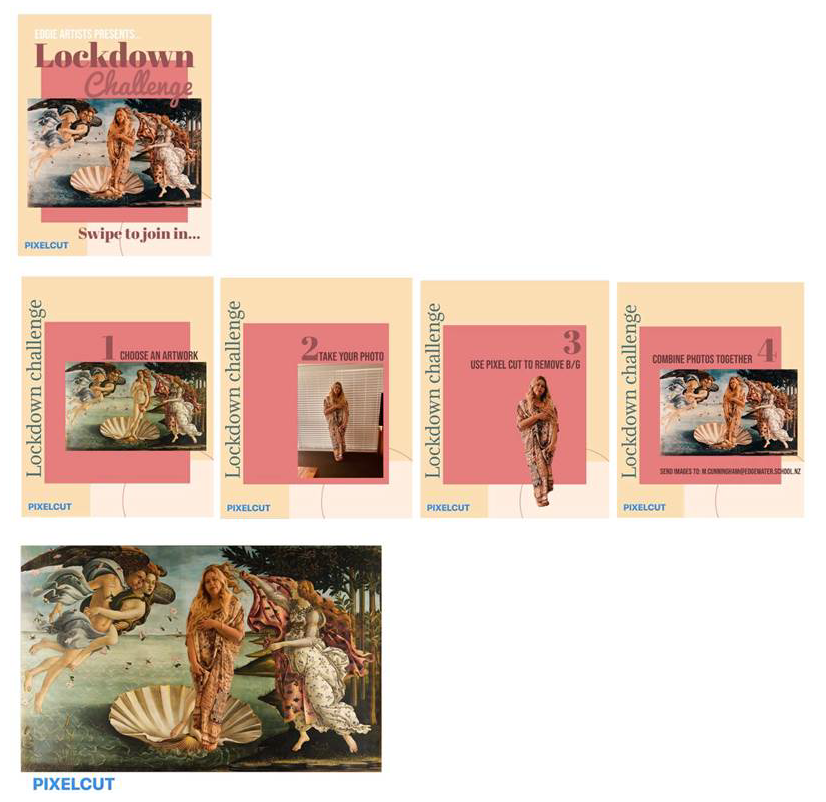 Vaccination Sites
Now is a good time to book in for a vaccination. Information about vaccination sites can be found at https://bookmyvaccine.covid19.health.nz/. Further to this, we have been made aware of a recently opened drive-through vaccination centre at Park and Ride, Verissimo Drive, Auckland Airport for the Pacific community. This is open each day 8:30 am-4.00 pm and further information is attached to this message.
Drive Through Factsheet Pacific
2021/22 Student Election for the Board of Trustees
We have been advised by NZSTA that we need to 'PAUSE' the Student Election for the Board of Trustees while we are at Alert Level 4. We are awaiting further information about this process and will let you know the new timeline in due course.
NZQA
The following changes have been made about NCEA so far. Please note we are expecting further information about Learning Recognition Credits / University Entrance as these are finalised.
External exams have been pushed back 2 weeks. They will now start Monday 22 November to Tuesday 14 December.

Portfolio dates have also been moved back 2 weeks.

MCAT has moved 2 weeks and will now be 28th September

DCATs – no change (at this stage)
Year 13 students – changes to enrolment and scholarship processes
Universities and Te Pūkenga have adapted their enrolment and scholarship application processes in light of Alert Level 4.

Prior to COVID-19 restrictions, students were required to provide certified copies of their results. As an interim process, neither Te Pūkenga nor the universities will require certified copies of results documents and will obtain confirmation of students' results from NZQA. Students should, where possible, provide a copy of their results documentation, but this does not need to be certified.
You will be required to make a declaration if you have not been able to obtain independent verification by an authorised person of your identity documentation. Students should include their declaration at the same time as their accompanying enrolment documents. This can be in the form of a handwritten sheet or a printout with your signature.

If you are providing photographs or scans of documents, please ensure that the information on the document and the accompanying declaration is legible.
Sport
School Sport New Zealand has announced that all sanctioned events on its calendar until 6 September have been cancelled. This includes Winter Tournament Week, which is understandable but is of course disappointing for those who had planned to participate. School sport in Auckland will resume at Alert Level 2 or lower.
Enrolment 2022
If you have Year 8 children who are yet to enrol for 2022 you are encouraged to do this as soon as possible. You can either enrol online at https://www.edgewater.school.nz/enrolment/enrolment, or email [email protected] to let us know you will hand in a paper enrolment form as soon as Alert Levels allow.
Ngā mihi maioha
Louise Addison
Share this article: