Stationery requirements for 2022
All Stationery requirements are available from the Warehouse Stationery from 17 January.
Students may choose to buy either the comprehensive "Full" stationery pack, or the "Essentials" pack, both of which are available for purchase online at https://tinyurl.com/2p9yrpdk or from Warehouse Stationery East Tamaki.
When purchasing online – click on the link above then scroll down until you see the filter box (picture below) or scroll further down the page and choose by the appropriate list. Start your purchasing.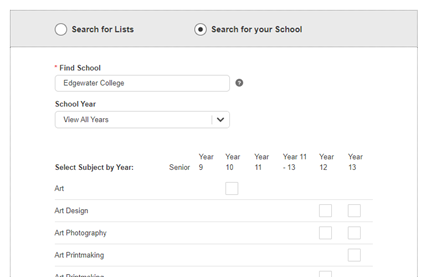 If you choose not to purchase one of these packs as a whole please note it is expected that you will have all items on the "Full" list ready for the second day of school. A copy of our stationery requirements list can be downloaded from the menu on the right.
BYOD in 2022
At Edgewater College we have a 1-1 device policy to ensure all students have access to a personalised device for use throughout the school day. If you are in a position to supply your child with a device then this is strongly recommended to support their learning both at school and at home. Please note that if you are not able to do so then a school device will be provided for use during the school day.
To see the options available for parents to purchase please check out the back of the Year 9 Stationery requirements list. PB Tech offer special prices for Edgewater College parents as well as the option to pay off the device over time.
To unlock the special pricing for parents, type in BYOD2022 at the top of the page.
You can then add the device and / or accessories to the cart and proceed to the checkout.
On checkout there are a range of payment options available such as finance options.
Students can bring their own device to school from Thursday 3 February but are not required to bring their device on Wednesday 2 February.