Kia ora koutou
Thank you again for all your support of your children and our school as we navigate a challenging Term 2. It remains very inspiring to see teaching and learning both in and outside the classroom resume and students engaging in meaningful learning and assessment. Ngā mihi nui ki a koutou!
Achievement Reports
These were emailed out, as well as available from the portal from yesterday. They should give clear information about both how you / your child is tracking Achievement and Learning Behaviour wise and will form the basis for our conversations coming up on our Mentor Days this Thursday and Friday.
Mentor Day
We strongly encourage all parents and caregivers to make appointments to see your child's Mentor Teacher and / or Subject Teachers this Thursday (10 am to 7 pm) and Friday (8 am to 1 pm). Information about how to book in an appointment has already been sent / is available via the Portal. Please don't hesitate to get in touch with your child's Mentor Teacher if you would like further support with this.
Study Point / After School Tutoring
Our awesome Academic Committee are now offering one to one tutoring / study sessions after school in B Block from 3.15 to 4 pm on Tuesdays, Wednesdays and Thursdays. Senior students and staff are on hand to support any students with their learning / homework. Hot chocolate and afternoon tea are also available! We strongly encourage all students to take advantage of this awesome after school programme.
Timetable for Term 3
As you will know we did adjust our timetable earlier this term to take into account the ongoing absences of staff and students as we continue to deal with the Omicron outbreak and high numbers of those affected by other winter illnesses. Unfortunately, it is not looking like there will be any significant improvement in these areas as we head into Term 3, indeed we currently are seeing a rise in Covid cases across Auckland.
With this in mind, we have decided to maintain the current timetable for next term with some minor adjustments. We will be teaching our usual five-day timetable across Monday to Thursday to ensure the curriculum is covered for all learners, and free up Fridays for NCEA Assessment / Supervised learning on site / Literacy and Numeracy learning from home for juniors.
Students will continue to have four 70 min sessions on Monday, Tuesday and Thursday instead of the usual three 90 min sessions. Wednesdays will remain as they are currently with three 90 min sessions.
STUDENTS IN YEARS 11 TO 13
Fridays will continue to be NCEA Assessment days for Year 11 to 13 students.
Please take careful note of your / your child's achievement and ownership of learning grades on their current report to determine if you / your child is required to be onsite on Fridays:
Of concern: Students must report to their Dean on Friday morning and attend NCEA catch up sessions.
Inconsistent: Students should discuss their plan with their Mentor teacher and make plans to attend appropriate workshops / catch up sessions.
Good / Excellent: Students should continue to discuss their plans with their Mentor teacher and attend workshops / catch up sessions on Fridays as appropriate.
All students learning onsite will be required to be in full school uniform and sign in at the front office.
Students in the 'Of Concern' category should then report to their Dean at 'Study Point' (in the bottom of B Block at 9 am each Friday.
STUDENTS IN YEARS 9 AND 10
We have designed a Friday at home learning programme based around literacy and numeracy for all Junior Students. Tasks will be shared via Mentor Teachers on Thursday for completion on Fridays with work due in by 2 pm. Answers will then be posted for students to mark their work.
Students who would prefer some additional support to complete these tasks are able to attend onsite. They should sign in at the front office and report to the library. We do also have additional hard parks for any Year 9 or 10 students wanting additional English, Mathematics or Science tasks.
All students will again be able to take their device home on Thursday evening to support their learning on Fridays, provided it is returned to school the following Monday morning.
ONSITE DAYS FOR JUNIOR STUDENTS
We will also have two Friday onsite learning days for all juniors in Week 4 (Friday 19 August) and Week 8 (Friday 16 September) of the term. We will be running whānau-based activities on these days.
The timetable structure remains as follows: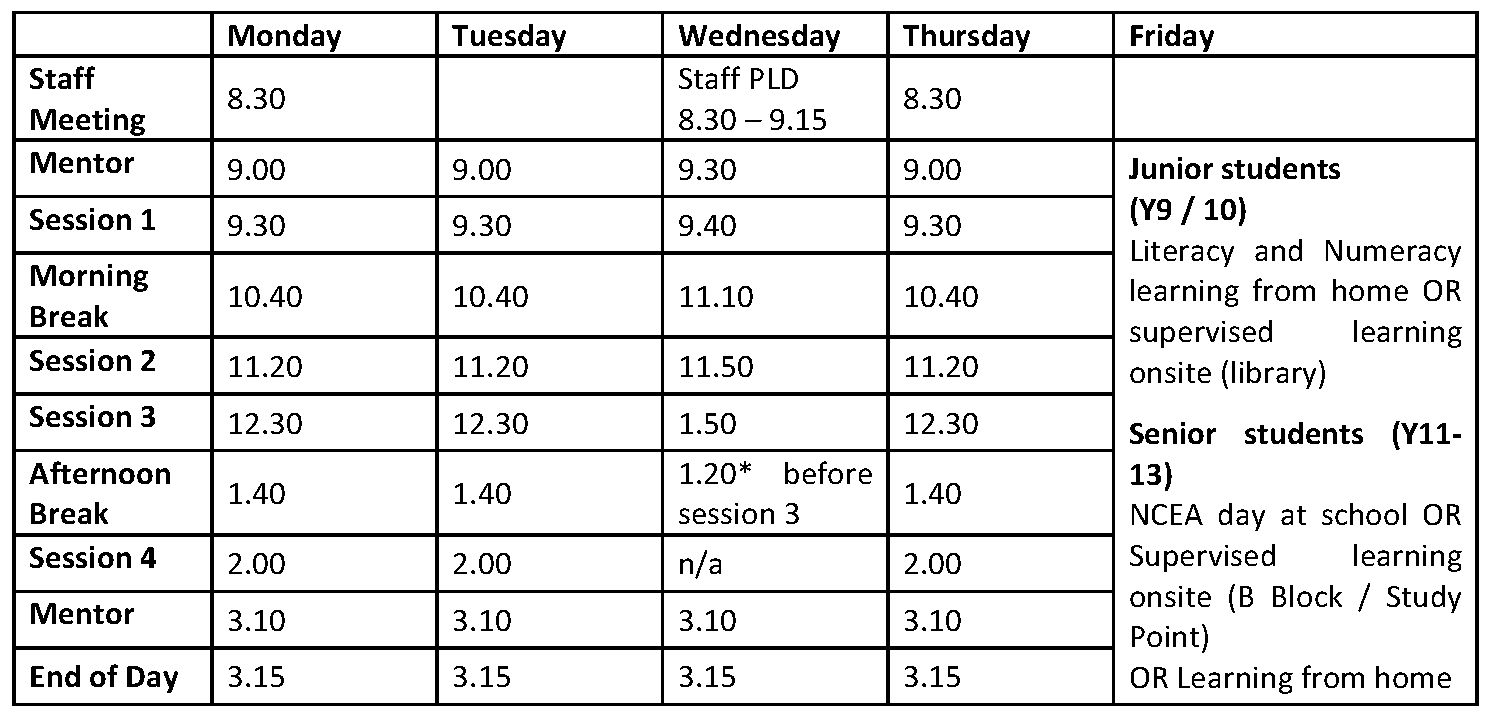 Ngā mihi nui
Louise
Share this article: