Kia ora koutou
The Senior Leadership Team and I have met this morning and as signalled last week we will be starting to return to onsite learning next week (week 8). At this stage we are also hoping to return to normal onsite learning for all year levels from week 9.
We are looking forward to warmly welcome back all our students as per the following timetable. As long as you are well and not isolating for covid-19 please do come to school on the following days so you can meet with your teachers and follow up on how your learning is going. Mentor teachers will be in touch with the families of all students who do not attend so we know about your individual circumstances and how best we can support you to continue with your learning.
Week 8 | 21 to 25 March
MONDAY - Year 9 students only - 9 am to 3 pm
TUESDAY – Year 10 students only - 9 am to 3 pm
WEDNESDAY – Year 11 students only - 9 am to 3 pm (Please note we will not be having a late start today)
THURSDAY – Year 12 students only - 9 am to 3 pm
FRIDAY – Year 13 students only - 9 am to 3 pm
The timetable will be as follows. Your Mentor teacher will go through this with you during morning mentor time so you know what classes you have and when.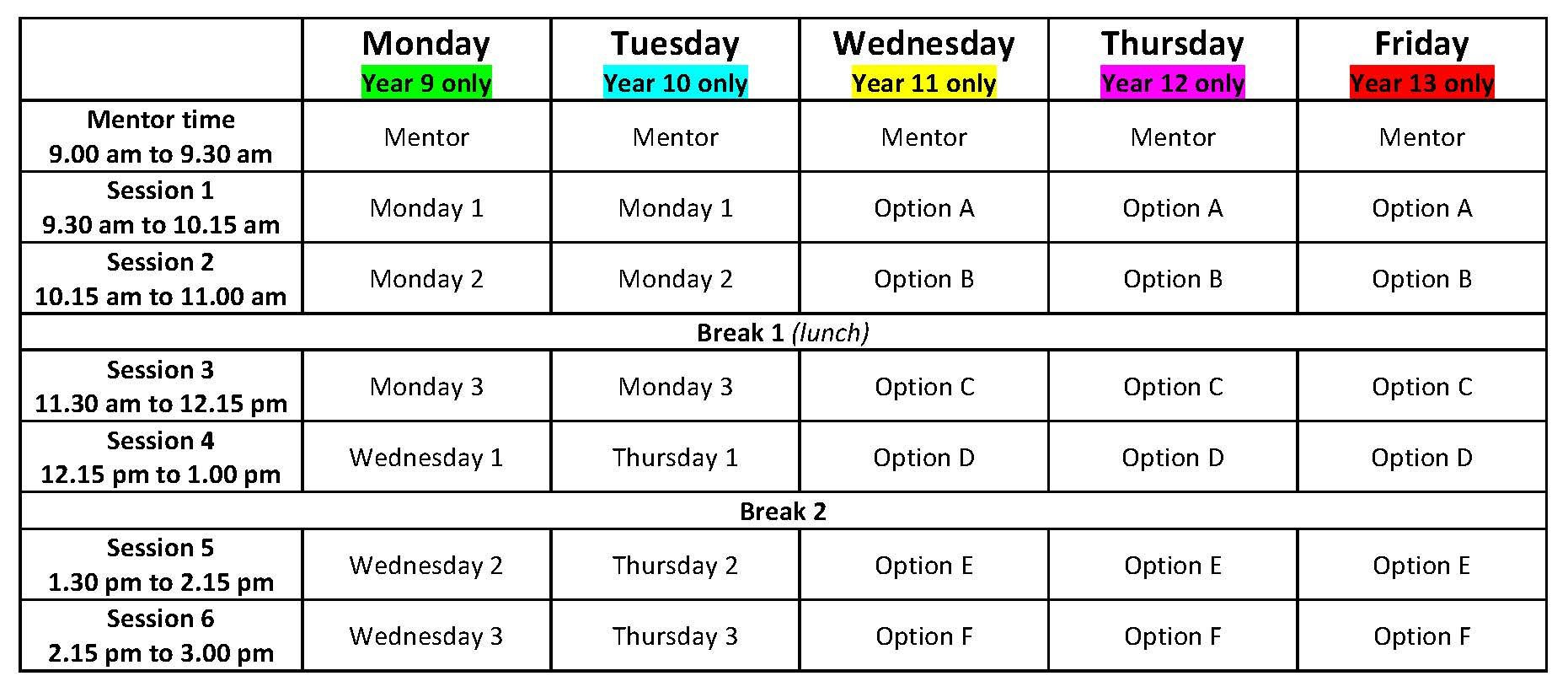 We will be returning under RED conditions this means
Masks must be worn by staff and students at all times when indoors.

Masks must be worn on school buses or public transport on the way to and from school.

Masks are recommended outdoors when you are within 2 metres of others.

You MUST NOT come to school if you are unwell, have covid-19, or have a member of the household with covid-19. Any students who arrive at school unwell will be sent home.
If your child or a household member tests positive for Covid-19:
Please continue to notify [email protected] should you, or a household member test positive for Covid-19. Please include the date symptoms started, and the date of your positive result. You will not be able to be onsite for learning / extra-curricular activities until day 8 after this positive result.
Students needing supervision onsite
If you have students under 14 that need supervision onsite next week then please email [email protected]. In your email, please specify the days of the week the student will require supervision so that we can confirm with staff.
School buses update from AT Transport
If you're using AT school buses: AT Transport have indicated they are trying their best to make school bus services their priority and run most school bus services to a regular timetable. However, they are expecting to see some last-minute cancellations due to the spread of Omicron in the community. This means there may be some occasions when these are last-minute and can't be communicated in time. If any of your bus services do not arrive on time they will try to help you to find or use alternative transport options. https://at.govt.nz/bus-train-ferry/journey-planner/. AT Transport apologise for any inconvenience this might cause.
Grocery Boxes
We have some grocery boxes available next week. Please fill in this survey if you would like a food box and we will do our best to provide one for your whānau https://forms.gle/ahUvXgVF44wR3Xii8. We will then contact you next week to let you know when to collect it from school. If you are unable to collect a grocery box but need one, please email [email protected] and we may be able to arrange a delivery late next week.
Looking forward to seeing you in person next week!
Ngā mihi maioha
Louise
Share this article: