Hi all
Thank you again to our senior students for the excellent way they have returned to school and maintained the highest levels of health and safety standards. Congratulations to those students who have attained their NCEA qualification – the number is growing by the day and this is very positive to see! As I mentioned in a previous email you will get email notification with a 'completion certificate' from the school when you have reached this goal.
Student Vaccination information
On 28 October 2021, The Secretary for Education issued a Direction under the Education and Training Act 2020 Schedule 25, clause 3 that requires all registered schools who enrol students over the age of 12 years, to maintain an up-to-date register with the COVID-19 vaccination status of these (eligible) students, starting from 1 November 2021.
Your vaccination status information will enable us to know the vaccination status of all eligible students to ensure we are complying with the Direction, and in the case of an outbreak, respond accordingly. The full privacy statement is available here: https://www.educationcounts.govt.nz/data-services/collection-forms/vaccination-register
In order to comply with this direction we are asking all students at Edgewater College (or parents/caregivers) to please complete the following google form.
The form will give you the opportunity to upload evidence of your vaccination so please have a photo ready to do this. Alternatively, you could bring the evidence into school when you are next able to be onsite and we will take a copy.
Please go to the following link to provide this information:
Student vaccination register: https://forms.gle/hsmhsb65BgwkJbGh7

If you are not yet vaccinated you might want to take advantage of the 'get ya dot' campaign running this weekend to encourage our rangatahi across Auckland to get vaccination. Please see below for where you can get you 'dot'.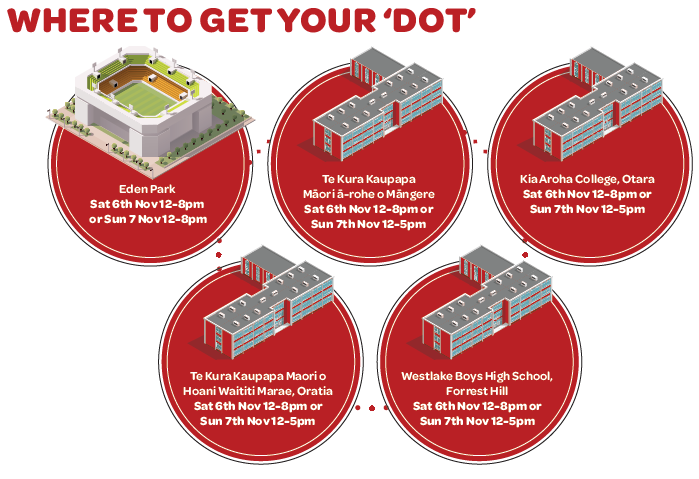 Prizegiving / Leaver's Day
All senior students have been sent an invitation for Prizegiving / Leavers' Dy via email, which contains all of the details including Health and Safety information for this day. If you are a senior student and haven't already rsvp'd to show you will be attending in person on that day please complete the survey here https://forms.gle/vCPc3eJUGJ4Qwr6Y9
Prizegiving info for parents/caregivers
I know you will share our disappointment that we are unable to hold our Senior Prizegiving in the usual way at this time. As you will have seen in our previous emails, we are going to be holding a virtual prizegiving for our senior students next Friday 12 November, the details are included again below. Mentor teachers will take photos of elite prize winners, and we will send out a link where you will be able to see the names of all prize winners, and any photographs we manage to take on the day. We will hold the certificates for any students unable to attend until 2022 for them to collect.
Leavers Day 12 November – Years 11 to 13 onsite
9.30 – All students in Mentor classes
Chance to say farewells / acknowledge the year etc

A short NCEA examination processes PowerPoint will be shared with all Mentor Teachers to show the students, during this morning session.
10.00 – Co-curricular and Senior Prizegiving via google Meet
All prizes will be handed out in Mentor classes

As the prizes are read out Mentor teachers will hand out certificates and prizes. Please no handshakes but you might want to acknowledge in some non-contact way 😊

Cups will also be in Mentor classes, teachers will take photos of students with cups and trophies.
Lunch will be available at the conclusion of prizegiving. Students can take it with them or remain on school grounds to eat together and say farewells (weather depending).
There will be a brief assembly/farewell for Year 13s at the end of Prizegiving also in their Mentor classes.
I also more generally want to pass on my sincere thanks to all our parents and community members, including those who have emailed or phoned through messages of support and wellbeing to myself and the wider Edgewater College staff. We feel very blessed to serve such a caring and hard-working parent community - please accept our thanks for all you have done and continue to do to support distance wellbeing and learning at this time.
Ngā mihi nui ki a koutou.
Louise
Share this article: