Friday 22 October 2021
Kia ora koutou katoa
As I mentioned on Wednesday there is the opportunity for Senior Students (those in Years 11 to 13) to return to onsite learning if they wish from Tuesday 26 October.

We have spent the past 48 hours trying to design the best possible plan for maintaining the Health and Safety of all our community and supporting Senior Students to return to onsite learning as they are able.
Please know we recognise this as a personal choice for students and parents. Distance learning will still be available for senior students who prefer this to onsite learning.
Junior students (Years 9 and 10)
All junior students will be required to stay at home and continue with distance learning. Any students that require onsite supervision as they have no other at home option will be supervised in the library. To register for this supervision, please email [email protected] by 3 pm today. This supervision is available from 9.15 to 3.00 pm each day.
Senior students (Years 11 to 13)
All senior students have the option of onsite or distance learning according to their particular situation. We have adapted the usual timetable to best support those students onsite.
Distance learning
The learn at home spreadsheet will continue to be available to provide work for all year levels.
Senior Students onsite
We will be moving to having morning and afternoon sessions at school during the following times:

Session 1: 9.30 to 11.45

Lunch 11.45 to 12.30

Session 2: 12.30 to 2.45

The gates will only be open from 9.15 am to 3 pm. They will be closed during the session times so students will need to arrive promptly for sessions.

Sessions are optional for students – you can choose to be onsite at that time, or to continue with distance learning.

We will also be providing some specialist options for students who want to 'get NCEA and go' from 1 November onwards.
On Tuesday 26 October
We will run a morning session only for all senior students to attend their Mentor class. Only Senior students may be onsite – they should go straight to their Mentor class for a 9.30 am start.

We have a template of a plan that students will complete (either during this session or via email) for the next three weeks. They can combine a mixture of onsite and offsite learning.

https://docs.google.com/document/d/1SF6c5jv2f5ngG0ZHl4Bu4rD9S3sEIiNj0YXy7pE_-8c/edit?usp=sharing

For Year 11 and 12 students we would also like you to complete your student options for next year if you have not already done so.

We will also be collecting information about school lunches required from Wednesday. We are looking at a packed take home lunch option on Tuesday for students onsite.

In the afternoon Mentors will be phoning students who do not attend to help them in formulating their plan for the remainder of the year.

The back gate will not be open so please enter via the front gates.

A take home lunch will be provided. Please bring a water bottle / drink with you as water fountains will not be open.

Please wear full school uniform (including a jacket / sweatshirt for times you will need to be outside).

Please ensure you bring your device ready for learning.
From Wednesday 27 October
You Mentor teacher will discuss the following timetable with you on Tuesday morning.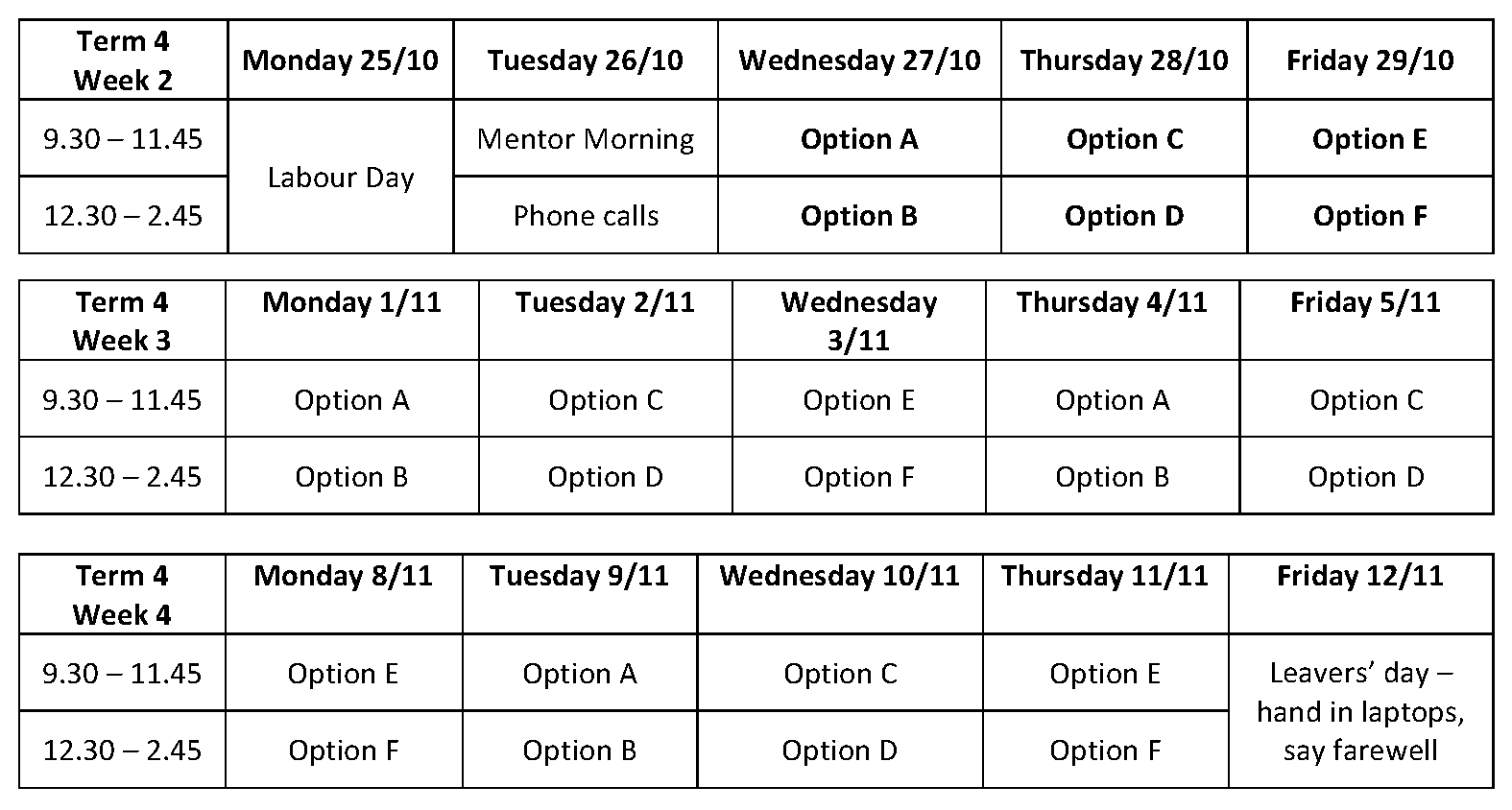 Health and Safety
From Week 3 we will also be offering special sessions for the following areas:
Level 1 Literacy

Level 2 Numeracy

Level 1 "Get it and go"

Level 2 "Get it and go"

Level 3 "Get it and go"

Scriptwriting to get UE Literacy writing credits
We will be asking Mentors for the names of students for these courses over the course of next week so we can plan for them. They will start in week 3.
Vaccinations and Testing
As per the Government regulations, all staff onsite will have returned a negative test before returning.

All staff on site have also met the government regulations regarding Mandatory Vaccinations.
It is strongly recommended that ALL students intending to be onsite next week have had at least one vaccination.
There is plenty of opportunity for this to occur over the weekend, so you have some protection before returning to school.
No staff or students who are unwell may be onsite at any time. Students who arrive unwell will be sent home.

All staff and students are required to wear a mask at all times unless they have an exemption from a medical professional. If your child has a medical exemption not to wear a mask they must bring a medical certificate to their Dean for a school exemption.

Students must also wear a mask on the way to and from school, including on both public or school buses.

Physical distancing of a minimum of 1 metre will be followed at all times – classrooms will be set up accordingly.

Hand sanitiser is available in all teaching spaces.

Cleaning of hard surfaces will take place between sessions and at the end of each day.

Windows and doors will be left open and throughout the break in the middle of the day to support adequate ventilation. (So please dress warm!)

Bubbles are not required at this time – but we are trying our best to minimise contact between large numbers of students and staff.
Student behaviour
A zero-tolerance approach will be taken to any student behaviour that endangers the health and safety of others. Any students not meeting these expectations will be sent home and will not be allowed back onsite for learning during this time. Examples include:
Students not wearing a mask

Students not remaining at their assigned desk in class

Students not following a clear instruction from a staff member

Congregating outside classrooms without masks or not observing physical distancing

Any 'silly' behaviour that is not in keeping with general health and safety guidelines
Wellbeing
I know that many of you may be anxious about returning, about upcoming exams and the general situation we found ourselves in.

Please know that we are flexible to your individual circumstances and are here to help! We want to work with you to design the best plan for you. This may be onsite, it may be distance learning, it may be a combination of the two.

Please note you are not required to sit exams at the end of the year – it is up to you. If you do not sit the exam you will be given the result that your teacher has entered for you. This means it is very important that you complete the practice external tasks set by your teacher – each at school or at home. If you do sit the exam you will get the higher grade from your practice task or from your exam result.

If you are in Years 11 or 12 it is not essential that you get your NCEA qualification this year – we can work with you next year to complete two levels of NCEA.

Please note that not sitting exams or your results this year will not be used to prevent you from taking a subject next year.
School Office
Until we return to Alert Level 2, our school office will remain closed. If you would like to contact us for:
General Enquiries – please phone 09 576 9039 or email [email protected]
Enrolment Enquiries – please email Sue Wolfgram on [email protected]

You can also contact your Dean or Senior Leader by email: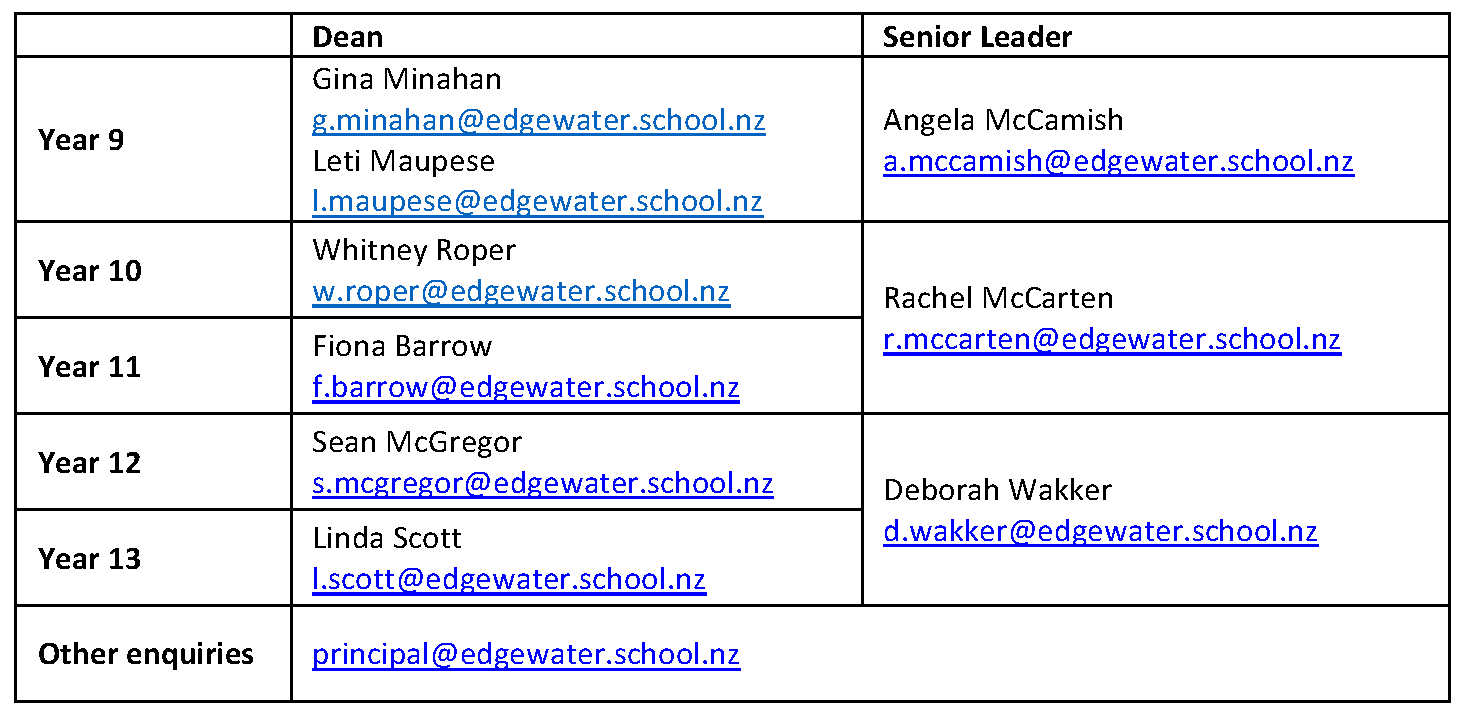 Thank you all for your patience while we have formulated these plans. If you have any questions please do not hesitate to get in touch via one of the contacts above. I hope you all have a nice long weekend and we look forward to welcoming our seniors back on site from Tuesday.

Take care everyone
Louise
Share this article: