Malo e lelei, welcome to Tongan language week. Here are our staff celebrating Tongan Language week in our zoom this morning…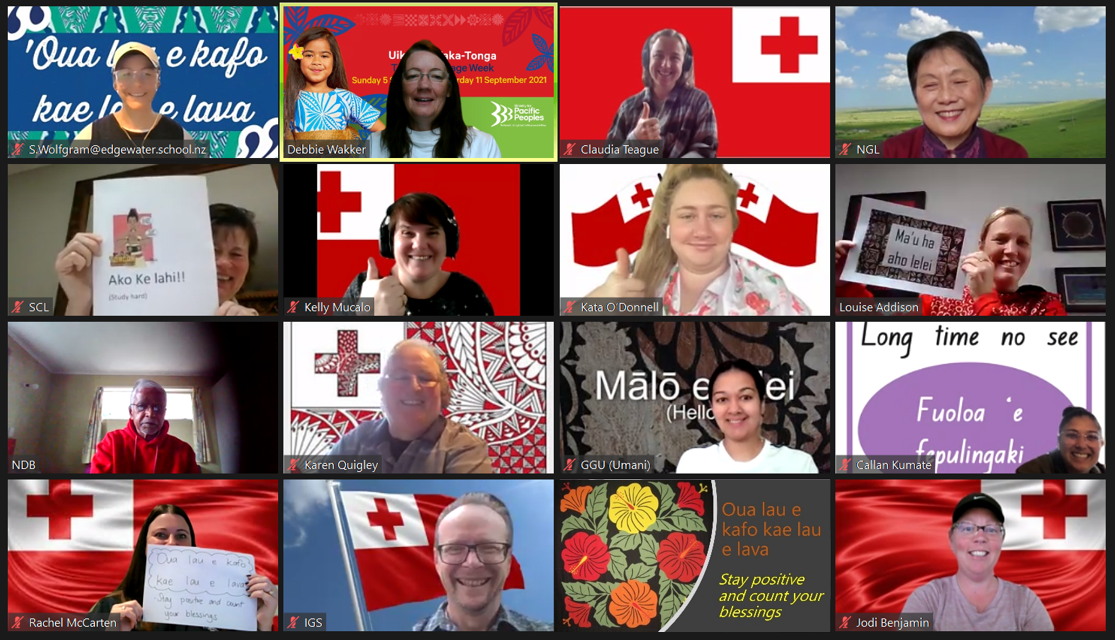 If you have a picture you would like shared on social media for Tongan Language week please email it to [email protected]
As mentioned last week you can some online events and activities will be available and streamed online on the official NZ Tonga Language Week Facebook page
Alert level
As announced by the PM yesterday those areas outside of Auckland will move to 'Delta' Alert Level 2 from midnight tonight. We remain at Level 4 till at least next Tuesday and will find out on Monday 13 September about where to from there.
Senior students
There are a limited number of places nationwide for students to complete 1 or 2 subjects via Te Kura / Correspondence school. Initially we would like to use this to support Year 13 students who need 12 credits in a subject for University Entrance and are at risk of not achieving this. If you think you would benefit from completing an assessment or two via Correspondence school please get in touch with your Subject Teacher who can request this for you.
Mentor catchups
Your Mentor is going to host an online meeting on Wednesday afternoon with you, please look out for an email from your Mentor who will advise you of the time for your meeting. Your Mentor will be reminding you of how to find all of the information you need for your online learning as well as being able to answer any questions you may have.
Engagement update
These will be being available on the portal from Monday 13 September. They will include a grade from each subject about your current engagement:
No contact to date

Some engagement / participation

Good engagement – some task completion

Excellent engagement – all tasks completed
If you have not had the opportunity to get in touch with your classroom teachers / send in the work you have completed you are encouraged to do that this week so it can be noted on the Engagement Update being sent out.
Instructions on how to access the update will be sent in Friday's email briefing.
Vaccination opportunity for Edgewater College students and their families/bubbles
A number of our staff (and their bubbles) were vaccinated at the Pasefika Family Health Group - Queens Road Medical Centre last Sunday.
They would also be happy to run a session this Sunday 12 September between 9 am and 5 pm for any students of Edgewater College (aged 12 +) and those in their bubbles to get vaccinated. Please note if you are aged between 12 and 15 your parent/guardian will need to come with you to give their permission for the vaccination.
If you (and your bubble) would like to be vaccinated this Sunday please complete the following form by Wednesday 3 pm. I will then email you back with a time to arrive at the vaccination centre on Sunday and further instructions.
To book a vaccine on 12 September please go to: https://forms.gle/rRfTJKZJ1CLg6iGp6
Wellbeing Challenges
Ms Benjamin (Director of Sport) is running some challenges to help keep us motivated and to help our wellbeing. Keep an eye on the EC Instagram https://www.instagram.com/edgewatercollege/ and Facebook page https://www.facebook.com/OfficialEdgewaterCollege for more information and to get involved! One of this week's challenges is to gain points for our own wellbeing: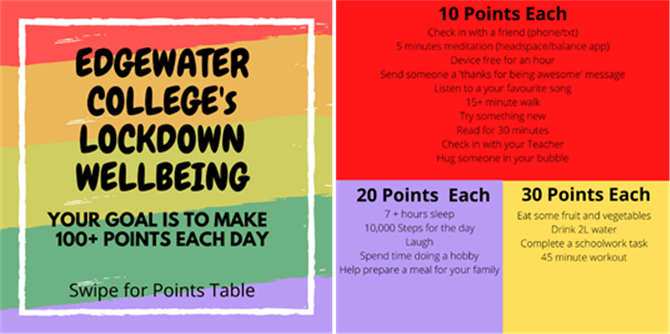 Practical Support for Families
We know that many families across Auckland are feeling the complicated effects of this lockdown. KidsCan have contacted us to say that they are able to deliver a one-off food parcel to Edgewater College families who may need it. If your whānau would benefit from a food parcel please contact our Deputy Principal, Rachel McCarten on [email protected] and she will collect the necessary information from you (we just need a confirmed delivery address and contact details). All requests and contact details will be kept confidential. Parcels will be delivered next week.
If you require other support at this time please visit the links below for guidance.
Ministry of Social Development Services and Support
Whānau Ora Family Support Packages
Ma'u ha aho lelei
Louise
Share this article: