Kia ora koutou
Introducing the Edgewater College Graduate Profile
I am writing about an exciting new reporting measure we are introducing this year to show our learners (and you as parents / caregivers) how are students are progressing over their five years at Edgewater College and ultimately as graduates of Edgewater College. This will be an important document that highlights the strengths and areas for development for our learners.
Each year all students will receive a certificate at the end of the year with the following information:
1. Their areas of strength and areas for development against our School Values and Capabilities: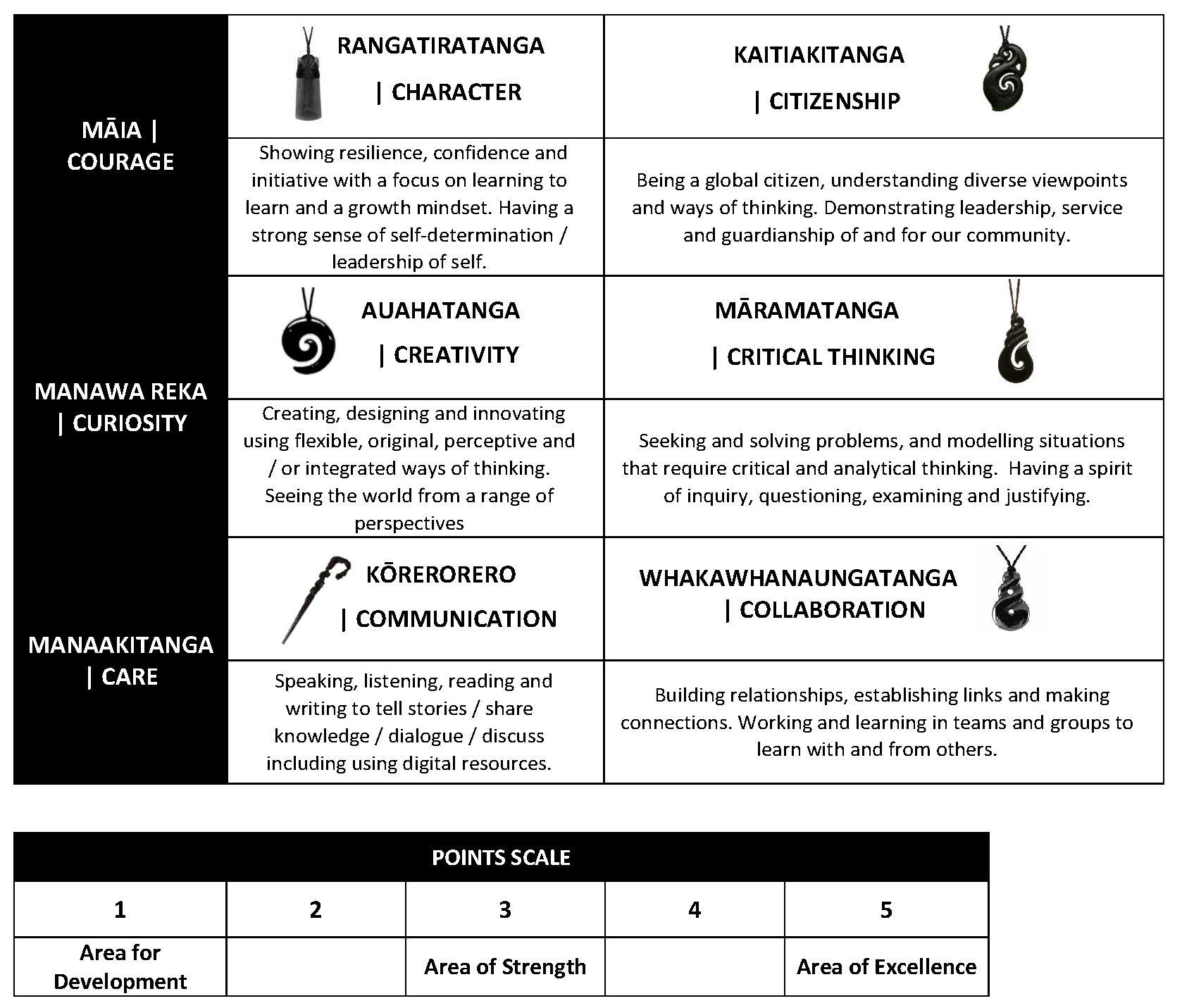 2. Their ownership of learning:

3. Their attendance and punctuality percentages per term:

4. Their Co-curricular, Service and Leadership activities.
Junior A Netball, Samoan Cultural Group, Peer Support Leader, Enviro Committee
5. A comment from their Mentor teacher about them as a learner (example).
Aulani is an enthusiastic learner who actively seeks new challenges and is committed to doing her best. She is cooperative and conducts herself with maturity. She is very supportive of other learners in the class and we have all appreciated her great sense of humour this year.
Students will be able to receive their certificate with a Gold, Silver, Bronze or no endorsement. Further explanation of how these will be awarded is given on the example 'Gold' certificate attached.
A 'progess' certificate to show how your child is tracking will be issued at the end of Term 2. The final certificates will be presented in assemblies to all students at the end of the year.
These certificates will be a way to track how your child is progressing in the important 21st century 'soft skills' that are essential to success in future learning or work. They will also be useful records for any future scholarship, apprenticeship or job applications.
One of the ways you can support your child to gain the highest possible level is to encourage them in always trying their best in all aspects of school life. In particular, your support in ensuring they attend school each day and arrive on time (9 am Monday to Thursday and 9.30 am on Friday) will ensure they can get a high level of endorsement.
If you have any further questions please don't hesitate to get in touch [email protected]
Further information will also be available at our upcoming Whānau and Excellence evening…
Whānau and Excellence evening
9 March from 4.30 pm
We would love all our parents / caregivers / whānau and students to attend this evening with the chance to find out more about Edgewater College, how we are supporting your child, as well as celebrating community, excellence and leadership. The evening will be in three parts:
Explore our school: 4.30 – 6 pm
Collect your Amazing race map on entry and visit the locations to be in to win.
Performances by our Cook Island, Tongan and Kapa Haka roopu

Participate in our 'Amazing race' and be in to win one of three chromebooks

Free sausage sizzle (All welcome! Feel free to bring other members of the family along too.)
Meet the Mentor: 6 pm – 6.20 pm
Online or in person
Meet your child's Mentor teacher

There will also be the opportunity to join this conversation via Google Meet for any whānau unable to attend in person.
Excellence and Leadership Celebration: 6.30 pm – 7.30 pm
Join us in the school hall for our formal celebration of Excellence and Leadership
Celebrating students who have achieved Excellence in the NCEA

Commissioning of our 2023 student leaders

You will receive a separate email invitation if your child is to receive a badge or award at this celebration.
Ngā mihi
Louise Addison
Share this article: